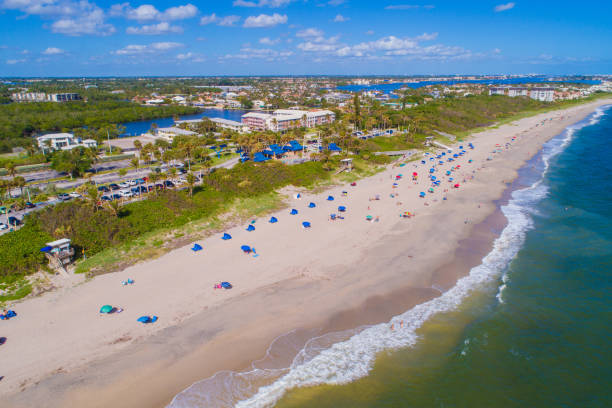 Florida Hot Spots for Retirement
July 11, 2022
Florida Hot Spots for Retirement
Florida has been one of the hottest places for retirees to settle down and it shows no sign of slowing down any time soon. Retirees flock to this incredible state to enjoy its mild weather, fun under the sun, sand, beaches, and surf. The low housing prices in certain areas of the state paired with no state tax is already reason enough to retire in Florida. No matter what you're looking for, there's a spot waiting for you and Find Your Florida can help you find it. If you're ready to retire, read about the hot spots for retirement in Florida.
Boynton Beach
Located in the heart of Palm Beach County, this coastal town is known for its open access to a number of beaches and incredible public and private golf courses. This area gives you a ton of different options for retirement living styles. You can expect to find a number of active communities as well as condominiums and single-family homes.
Clermont
This is one of the lesser-known names in the state of Florida but it's one of the hot spots for retirement in the state. This small town lies just 20 miles west of Orlando and it provides a beautiful suburban oasis. You'll love this area if you're looking for a small-town feel, restaurants, and historic landmarks. You can also expect different lakes, preserves, and golf clubs. 
Delray Beach
Delray Beach is another popular coastal town that has exploded in popularity over the last few years. Locals love this area for its amazing Atlantic beaches as well as the plethora of different in-town offerings and activities. This is an area for people who want different museums, parks, and outdoor offerings. 
Dunedin
This is another small town that not many know about but should. This small town is west of Tampa and north of Clearwater. It's a fun town full of personality and tons to do. The beautiful downtown area is perfect for evening strolls or morning bike rides. There's plenty to do outside of the town as well since it's located so close to bigger cities.
Naples
Located just west of Big Cypress National Preserve, Naples is a South Florida town with a tight-knit community that you should know about. It's a small, relaxed town that has plenty of golf courses, parks, docks, shops, restaurants, and beaches. This is a great place for people who want a little bit of everything.
Find Your Retirement Spot Today!
With so many different hot spots for retirement, deciding on which one is right for you can be a difficult decision. Find Your Florida is here to make that decision easier than ever. We're your ultimate tour guide for the state of Florida and we know we can make choosing your retirement spot easy. Visit our contact page today if you want to find the best spot in Florida for you!