The state of Florida is home to a number of beach towns that not only make a great vacation spot but are also amazing retirement locations. The entire state of Florida has been known as one of the hottest places for people looking to retire and settle down. Florida has a number of qualities that can heavily benefit retirees. Find Your Florida is your ultimate tour guide for the state of Florida. Our knowledge of the state of Florida can make your decision of retirement in West Palm Beach that much easier. 
Below, you'll find some reasons why we think retirement in West Palm Beach is one of the best decisions you can make. 
Retirement in West Palm Beach Means Amazing Weather
You don't have to live in Florida to know why it's referred to as the "sunshine state". Florida's vacation-like weather makes it a place that everyone wants to visit or live in. If you're a sunshine lover then West Palm Beach can be the place for you. You can expect the temperature to average a high of around 80 degrees Fahrenheit and an average low of around 60 degrees Fahrenheit. The summers in West Palm Beach can bring heat which some people won't love completely. During the summer you can expect the weather to be humid, hot, and rainy. This can be a great time to travel for people who are looking for retirement in West Palm Beach.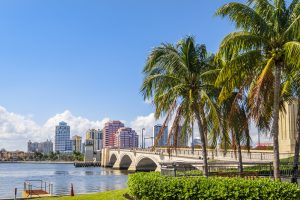 Savings for Retirees
When you retire, you want to spend as little as possible. West Palm Beach is the perfect place to do just that. The state of Florida doesn't have an income tax, inheritance tax, or estate tax. Cutting these taxes will greatly reduce the amount of money you spend each year.
Not only will you save on taxes, but you'll also save on your cost of living. The cost of living in West Palm Beach is lower than the average. Living in the state of Florida has a lower cost of living on average than in multiple states. This leaves you more money for things that you have an interest in. 
The City of Beaches
One of the big reasons why people love this state is its beautiful beaches. These beaches will not only cater to your water sport needs, but the tropical atmosphere will surround you. Not only will you have the Atlantic ocean right in your backyard, but you will also have lakes and canals everywhere you go. If you enjoy surfing, water skiing, fishing, jet-skiing, or any other water activity, retirement in West Palm Beach might be the perfect place for you. 
Demographic for Retirement in West Palm Beach
Don't worry about not being able to find a community that supports your lifestyle. West Palm Beach has active adult communities for everyone and anyone. You'll be able to find a community that loves paddleboarding and one that loves hosting community events. 
Health Benefits in West Palm Beach
Health care is not only West Palm Beach, but the entire state of Florida has incredible health care benefits. Since the state is a hotspot for retirement, the state has modified its health care in order to cater to the retired demographic. You'll be able to find a number of providers and well-known brands such as Clevland Clinic and The Mayo Clinic. 
Retirement in West Palm Beach is Right For Me!
We know you'll love retirement in West Palm Beach. Its incredible weather, living costs, and retirement benefits will welcome you with open arms. We want to be your tour guide of West Palm Beach and show you all the amazing things to do there. If you're ready to make the move or you have more questions about cities in Florida, reach out to our online contact form today.