Florida has been known around the world for its incredible number of beach towns that are not only amazing vacation spots, but incredible retirement locations. It's been common knowledge for some time that Florida is the spot for retirees to settle down. This is mainly due to the amazing benefits that come with living here. Find Your Florida is your ultimate tour guide for the state of Florida. We can help you find the perfect spot. Our knowledge of the area will make your decision for retirement in Tampa Bay much easier. 
Below, you'll find some reasons why we think Tampa Bay could be the perfect place for you to retire. 
Retirement in Tampa Bay Means Incredible Weather
It's no secret why Florida is referred to as "the sunshine state". It gets a lot of it. Florida's vacation-like weather makes it a great place to visit, but an even better place to live in. If you're a fan of warm weather and sunshine, Tampa Bay might just be the place for you. You can expect the temperature to be an average high in the high 70s and an average low of around the low 60s. The summers in Tampa Bay can bring the heat that some people will love and some will not love as much. Summers bring lots of heat, humidity, rain, and sunshine. This can be a great time to travel for people looking for retirement in Tampa Bay.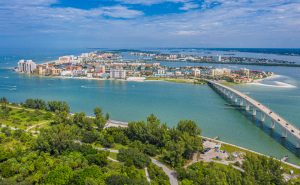 Savings for Retirees
Once you've retired, you want to spend as little as possible on living so you have enough to enjoy what you want. Tampa Bay is the perfect place to do this. The state of Florida doesn't have an income tax, inheritance tax, or estate tax. Without these extra taxes, you'll have more money to do what you want.
Saving on taxes isn't all there is. You'll save big on your cost of living. On average, the state of Florida is one of the cheaper places to live. 
Move to a Growing City
The city of Tampa Bay has been one of the largest growing cities in the state of Florida. In recent years, the city has seen growth in infrastructure and businesses. You'll find tons of things to do as new attractions are constantly appearing. This is thanks to the large influx of people moving to the city. 
Tampa Bay is also home to multiple amazing beaches. Not only will you have the ocean in your backyard, but you'll find lakes and canals all around. Tampa Bay provides a nice blend of tropical and urban. There's no end to the different things you can do in Tampa Bay. Everything you could want to do is within an hour's drive.
Demographic for Retirement in Tampa Bay
Tampa Bay's continual growth has led to a mix of different age groups. You'll find a younger demographic here compared to other cities in Florida. It shouldn't be mistaken that this isn't a great place to retire, however. Tampa Bay is still home to a healthy amount of retirees. There are plenty of active adult communities you can join and thrive in. No matter what type of lifestyle you live, you'll be able to find people with similar interests in Tampa Bay
Health Benefits in Tampa Bay
Tampa Bay, and the entire state of Florida, has amazing healthcare. Since Florida is a retirement hotspot, healthcare in the area has been modified to match its retired population. You'll find hospitals and urgent care scattered throughout the city. Big-name brands like Clevland Clinic and The Mayo Clinic have a number of locations not only in Tampa Bay but all throughout the state. 
Retirement in Tampa Bay is Right For Me!
We know you'll love retirement in Tampa Bay. Its incredible weather, living costs, and retirement benefits will welcome you with open arms. We want to be your tour guide of Tampa Bay and show you all the amazing things to do there. If you're ready to make the move or you have more questions about cities in Florida, reach out to our online contact form today.